1. Driving underwater: the Veluwemeer Aqueduct
Across the N302 road, near Harderwijk in eastern Holland, is the Veluwemeer aqueduct . It serves to connect mainland Holland with Flevoland, the largest artificial island in the world. It began to provide service in 2002, and with its 19m width and 25m length, it serves as a passageway for boats with small drafts, as it is 3m deep . If you are a pedestrian, you also have the opportunity to enjoy the wonderful views that it offers on each side.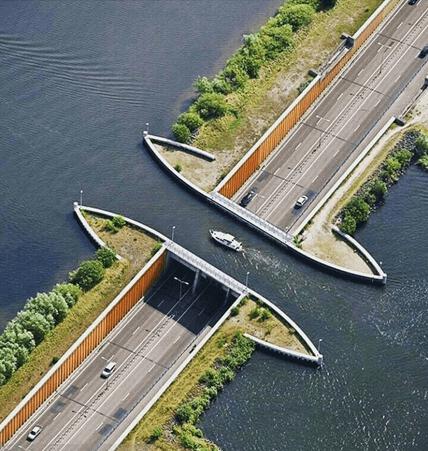 I leave you its position on a map for those of us who do not have an image of the Netherlands as precise as to know its location head on.
2.  The Magdeburg Bridge, water on water!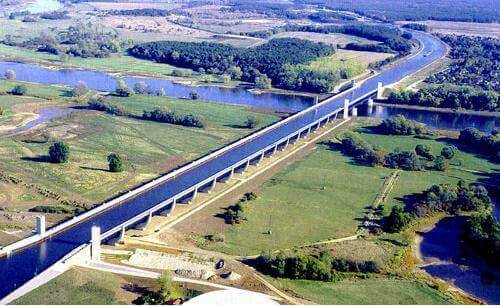 We continue with the "Wasserstrassenkreuz" or Magdeburg aquifer bridge (in German, Kanalbrücke Magdeburg ). At 918m long, it connects the Elbe-Havel Canal with the Mittelland Canal, crossing the Elbe River . It took approximately 7 years (1997-2003) to build the canal , located in Germany and defined as the largest bridge of this kind in the world. As an interesting fact to know how much material is needed to build this bridge, we can tell you that it has been built with about 68,000 m³ of concrete and 24,000 tons metric steel .
3. Falkirk wheel or Falkirk wheel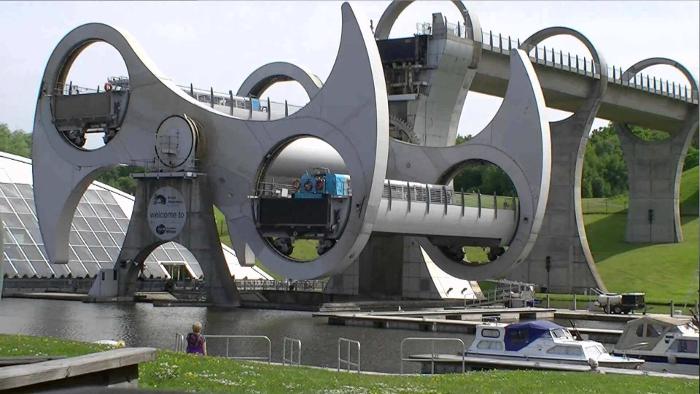 This jaw-dropping wonder is found in central Scotland . It is, nothing more and nothing less, than a boat lift with the aim of connecting the Forth and Clyde Canal with the Union Canal and thus avoiding the 11 locks previously necessary to connect them. This elevator saves 24m in height which, to give you an idea, is equivalent to an 8-storey building.
4. Ringvaart Haarlemmermeer Aqueduct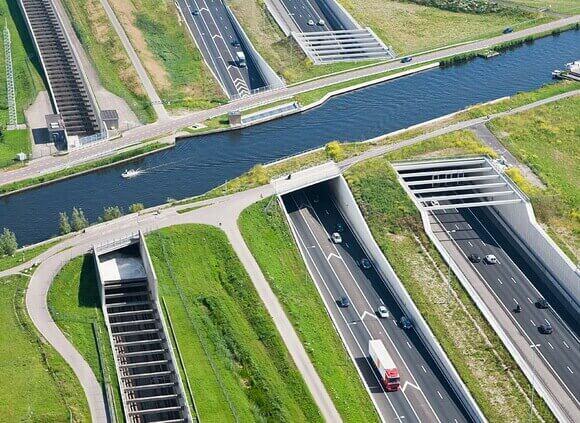 Located in Holland, Netherlands. It dates from 1961 making it the oldest in the Netherlands. We can also know it under the name of Circular Canal of the Haarlemmermeer polder.
5. Pont du Sart Aqueduct, Belgium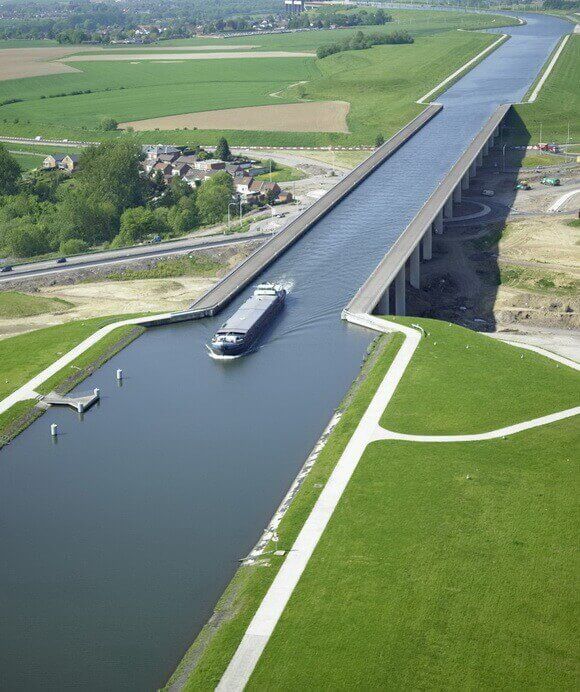 Navigable aqueduct near the city of Houdeng-Goegnies, in Belgium. With a length of 498m and 46m wide , this concrete giant weighs 65,000 tons that rests under 28 concrete pillars, each 3m in diameter.